About Us
About PAGS and PAGS Support
For life sciences, massive and highly accurate DNA sequence analysis has become more important than ever before. To cope with the situation it is necessary to develop a large-scale and state-of-the-art system both in terms of genome analysis and bioinformatics and to share the system with the research community. "Platform for Advanced Genome Science" (PAGS) was established for this purpose as a project of Grant-in-Aid for Scientific Research (KAKENHI) on Innovative Areas ― Platforms for Advanced Technologies and Research Resources supported by the Ministry of Education, Culture, Sports, Science and Technology. Beginning in April 2016, a period of six years is scheduled.
The PAGS members are experts in genomics and bioinformatics, who develop state-of-the-art technologies using the latest devices and provide the technologies to a wide range of projects that are selected from KAKENHI projects to solve their difficult issues. We call this activity "PAGS Support". The costs of this activity are essentially covered by PAGS budget, therefore, the PAGS Support is not a funding program nor an analysis service but a kind of collaboration between KAKENHI projects and the PAGS members. The PAGS members try to develop technologies to solve difficult issues presented by KAKENHI projects, which leads to the emergence of more difficult issues, which leads to further improvement or development of technologies by the PAGS members. Such a virtuous circle should lead to the advancement of genome science and the peak creation of life science. These are the mission of PAGS Support.
Technologies provides by PAGS Support
As shown in Fig.1, the PAGS Support is consisted of three major activities; (1) Management and ELSI, (2) Large-scale DNA sequencing, and (3) Advanced bioinformatic analysis. The latter two activities have the following categories of technologies and analysis, which are provided to the selected KAKENHI projects as warp weft.
(2) Large-scale DNA sequencing activities
A) de novo genome analysis
B) Variation analysis
C) Epigenetic analysis
D) RNA analysis
E) Metagenome, environmental genome and hologenome analysis
F) Ultra-high sensitivity analysis
(3) Advanced bioinformatics activities
A) Pipelines for basic analysis
B) Comprehensive annotation
C) Multi-omics analysis
D) Knowledge database for AI
E) More advanced bioinformatics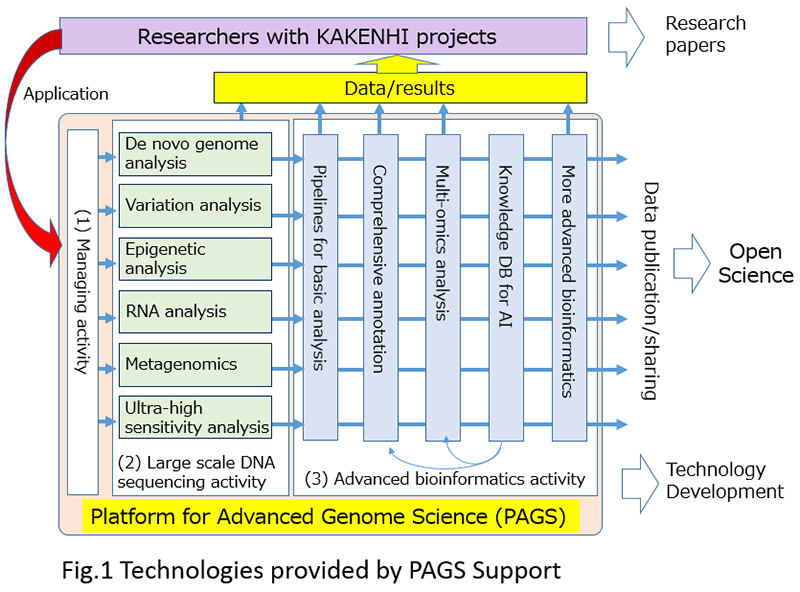 Organization of PAGS
PAGS is consisted of 48 researchers; 1 Principal Investigator, 21 Co-Investigators and 25 Research Collaborators, from 25 institutions (University Departments and Research Institutes) throughout the country. To promote the support activities, a network of institutions is formed with the National Institute of Genetics as the core institution and 7 institutions to which most of the PAGS members belong as the collaborating institutions (Fig.2). These institutions will share in the PAGS Support and its advancement through supporting the activities of the PAGS members.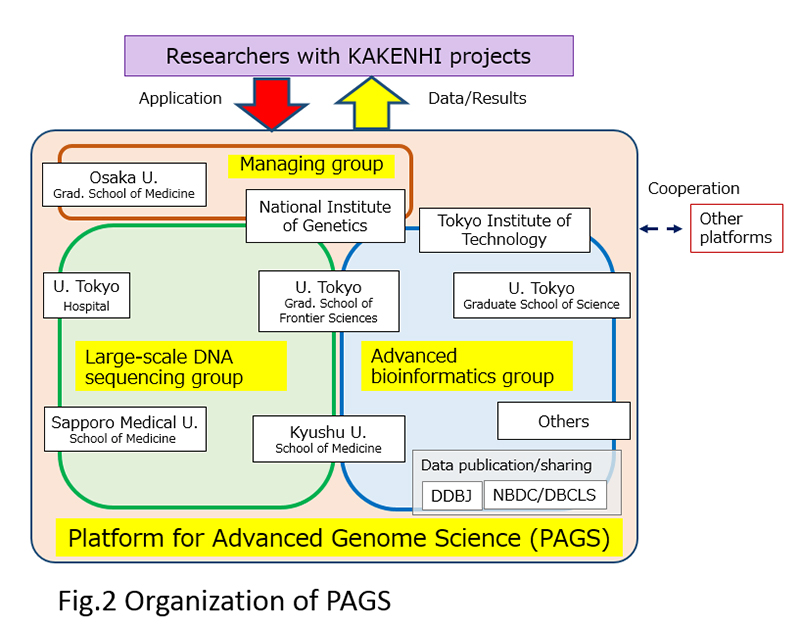 Members of PAGS
(:Principal Investigator, :Co-Investigator, —:Research Collaborator)
(1) Management and ELSI Group
Yuji Kohara
Advanced Genomics Center, National Institute of Genetics
—
Ken Kurokawa
Department of Informatics, National Institute of Genetics
—
Sumio Sugano
Medical Research Institute, Tokyo Medical and Dental University
—
Toshihisa Takagi
School of Science, The University of Tokyo
·ELSI Group
Kazuto Kato
Graduate School of Medicine, Osaka University
—
Ryuichi Ida
Shiga University
—
Zentaro Yamagata
Graduate School Department of Interdisciplinary Research, University of Yamanashi
—
Tohru Masui
Keio University School of Medicine
—
Kaori Muto
The Institute of Medical Science, The University Of Tokyo
—
Satoshi Kodama
Graduate School of Letters, Kyoto University
—
Koichi Setoyama
Kyoto Prefectural University Of Medicine
—
Minori Kokado
Graduate School of Medicine, Osaka University
Minae Kawashima
National Bioscience Database Center, Japan Science and Technology Agency
(2) Large-Scale DNA Sequencing Group
·NIG Site
Atsushi Toyoda
Department of Genomics and Evolutionary Biology, National Institute of Genetics
—
Asao Fujiyama
Advanced Genomics Center, National Institute of Genetics
—
Ituro Inoue
Department of Genomics and Evolutionary Biology, National Institute of Genetics
·UT Kashiwa Site
Yutaka Suzuki
Graduate School of Frontier Sciences, The University of Tokyo
—
Sumio Sugano
Medical Research Institute, Tokyo Medical and Dental University
·UT Hospital Site
Jun Mitsui
The University of Tokyo Hospital
—
Shoji Tsuji
The University of Tokyo Hospital
·Kyushu U Site
Tetsuya Hayashi
Graduate School of Medical Sciences, Kyushu University
—
Yasuhiro Gotoh
Graduate School of Medical Sciences, Kyushu University
—
Keiji Nakamura
Graduate School of Medical Sciences, Kyushu University
·Sapporo Med U Site
Takashi Tokino
Sapporo Medical University
—
Hiromu Suzuki
Sapporo Medical University
—
Hiroshi Nakase
Sapporo Medical University
—
Katsuhiko Nosho
Sapporo Medical University
—
Yasushi Sasaki
Sapporo Medical University
—
Masashi Idogawa
Sapporo Medical University
—
Masahiro Kai
Sapporo Medical University
—
Shoichiro Tange
Sapporo Medical University
(3) Advanced Bioinformatics Group
·NIG Site
Ken Kurokawa
Department of Informatics, National Institute of Genetics
—
Hiroshi Mori
Department of Informatics, National Institute of Genetics
Yasukazu Nakamura
Department of Informatics, National Institute of Genetics
—
Osamu Ogasawara
Bioinformation and DDBJ Center, National Institute of Genetics
—
Yasuhiro Tanizawa
Department of Informatics, National Institute of Genetics
Hideki Noguchi
Joint Support-Center for Data Science Research, Research Organization of Information and Systems
—
Shinji Kondo
Joint Support-Center for Data Science Research, Research Organization of Information and Systems
·UT Site
Toshihisa Takagi
School of Science, The University of Tokyo
Wataru Iwasaki
School of Science, The University of Tokyo
Shinichi Morishita
Graduate School of Frontier Sciences, The University of Tokyo
Kiyoshi Asai
Graduate School of Frontier Sciences, The University of Tokyo
Masahiro Kasahara
Graduate School of Frontier Sciences, The University of Tokyo
—
Hisataka Kiryu
Graduate School of Frontier Sciences, The University of Tokyo
·Tokyo Tech Site
Takehiko Itoh
School of Life Science and Technology, Tokyo Institute of Technology
—
Rei Kajitani
School of Life Science and Technology, Tokyo Institute of Technology
Takuji Yamada
School of Life Science and Technology, Tokyo Institute of Technology
·Kyushu U Site
Yoshitoshi Ogura
Graduate School of Medical Sciences, Kyushu University
Satoru Kuhara
Graduate School of Bioresource and Bioenvironmental Sciences, Kyushu University
—
Kousuke Tashiro
Graduate School of Bioresource and Bioenvironmental Sciences, Kyushu University
·Others
Hiroki Takahashi
Medical Mycology Research Center, Chiba University
Jun Sese
Artificial Intelligence Research Center, National Institute of Advanced Industrial Science and Technology
—
Martin Frith
Artificial Intelligence Research Center, National Institute of Advanced Industrial Science and Technology
Yasubumi Sakakibara
Faculty of Science and Technology, Keio University
—
Michiaki Hamada
Faculty of Science and Engineering, Waseda University
—
Hideki Hirakawa
Kazusa DNA Research Institute